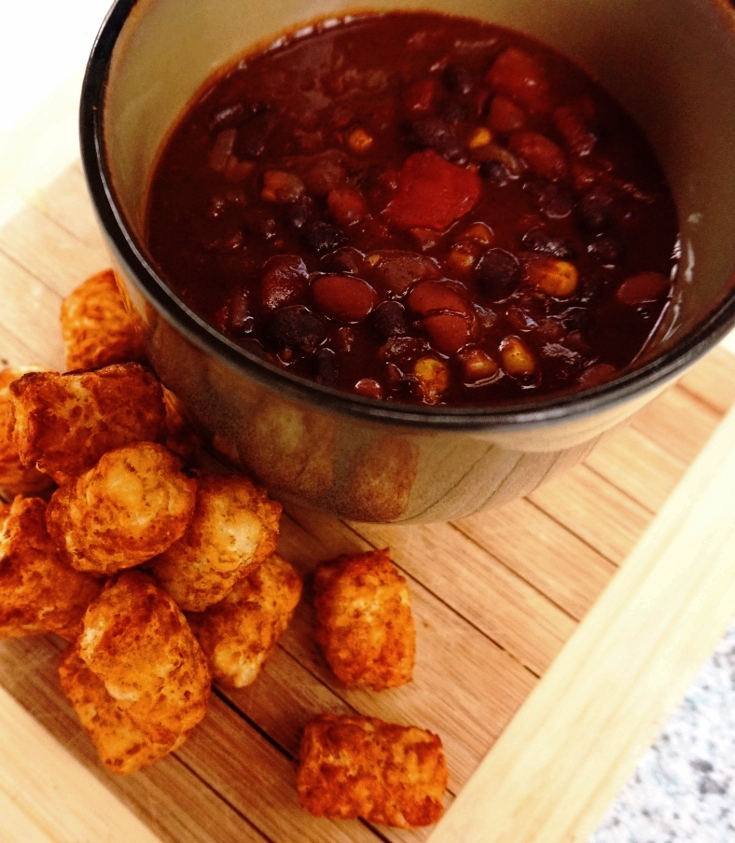 Servings: 5-6

Prep Time: 5 min.
Cook Time: 1.5 hrs.
Total Time: 1.5 hrs.

Calories: 150 per serving
When it comes to chili, we love adding extras to the pot. As pictured, tater tots mixed with chili is something that your taste buds can only appreciate once they've had a sample.
Our vegan chili seldom comes without crackers, mostly because we like the chili really thick. The crackers help to thicken the chili while adding a bit of a unique buttery flavor (just be careful to check their ingredients if you're on a vegan diet).
Nate likes a bit of bite to his chili, so that's what the crushed red pepper flakes are here for. No shame to those that like a mellow chili (we're looking at you, Kate).
Unfortunately, the vegan chili can no longer be vegan if you add cheese.
Fortunately, there are several companies seeking to recreate cheese in a manner that is non-dairy. Our favorite kind so far is Daiya.
The Daiya "shreds," as they call them, melt like cheese, taste a good amount like cheese, and definitely fit in this chili like cheese. They are worth a try! Here are the ones we used.
If you have a different preference on vegan cheese, let us know what it is in the comments below!
Quick Vegan Chili Recipe:
Ingredients:
Instructions:
In a large pot, bring water, tomatoes, onions, and all spices to a boil.


Once the pot is boiling, return heat to low, and add the rest of the ingredients. Feel free to get creative with what can be added - chili can take on almost any ingredient!


Let simmer for 1.5 to 2 hours, stirring occasionally, then enjoy!
never miss a recipe!
follow vegetatio: